Our Siberian Huskies are proving to be very Malaysian, with their love of DURIAN.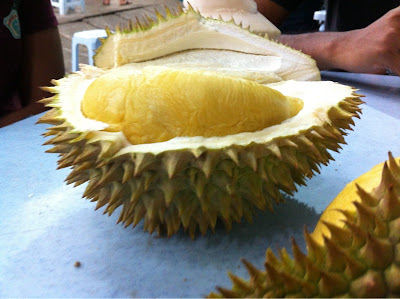 Durian, the king of fruits.
The tyrants go berserk when we bring home durians. They will be hopping up and down and tail us constantly until they get to eat some.
We usually buy them some fruits of their own. The more common and cheaper ones, no way they're going to be gobbling all out D24's! We once had a seller who was taking his time choosing the best fruits from the pile and we wanted to tell him "It's okay, it's just for the dogs! They'll eat anything!" Of course we didn't tell him that lah.
We eat first, always, so when we're joyfully tucking into our durians we get three impatient tyrants circling the table, urging us to eat faster and get on to feeding them.
Tyrants waiting waiting waiting for their turn.
And finally, it's their turn! We don't give them so much at one time, because durians are very heaty. And also because they sleep in the room with us at night, and a dog burping and farting after durian is NOT FUNNY.